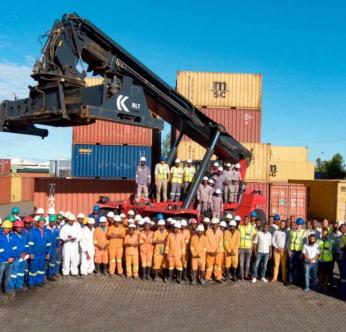 BLT is continually searching for talented and experienced individuals that support our philosophy of having high calibre employees whom reflect the BLT and in turn the J&J Africa core values.
Our people are ethical, have high integrity, are determined, hardworking, passionate about what they do, and are innovative.
People join BLT because they want to join the BLT team who are talented and lead from the front in warehousing, storage and logistics sector in Africa. Further there are vast and varied opportunities available. They want invigorating careers in an organisation that genuinely cares for and cultivates talent. These are the people who are willing to work hard to achieve excellence.
Our Core values embody our commitment to achieve excellence:
1. Take ownership and responsibility for our actions
2. Focus on the solution and not the problem, maintaining a positive and innovative attitude;
3. Integrity in the way we do business and how we relate to customers and our colleagues;
4. Embracing change in order to adapt to the ever changing business environments we operate in.

We achieve a superior service by recruiting talented individuals whom have the attitude, aptitude, discipline and drive to go above and beyond. By nurturing their passion for our business, we facilitate stimulating and fulfilling career paths for our people by providing learning and development opportunities and the work environment within which they can fully optimise their potential.
Employees work hard and go the extra mile, for which they receive recognition and reward. Initiative is encouraged and excellence is appropriately rewarded.
Long-serving members of employees attest to these values, and provide mentorship and sharing of knowledge to new team members.
We invite you to submit your CV via email/physically drop off at our premises in Vaz, Beira, Mozambique if you prescribe to the same attributes and values and see yourself being part of this dynamic and ever growing organization. You may be asked to respond to our two questionnaires to allow you to placed in our database.

Mozambique BLT's recruitment process does not include unsolicited offers of employment and does not require any form of payment from candidates – either before, during or after the recruitment process. As part of the J&J Africa Group of companies we will not ask you to send any personal banking information via email. If you suspect fraud, you are encouraged to alert us by sending an e-mail to legal@jjafrica.com. Alternatively, please report such activity to your local law enforcement authorities.